• new • woven label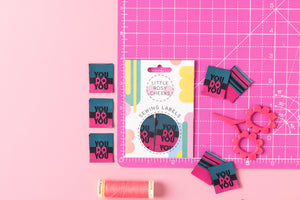 Woohoo NEW LITTLE ROSY CHEEKS LABELS are launching on 31 August 2023!
---
• freebie • sew nice • woven label
Hello! Hope you are all having a good month. I wanted to share a small change with you, previously I gave a way a free you are loved label with every purchase on the website. This all happened because my supplier accidentally sent me an extra 1000 labels and I decided to give them away as a thank you. I've always had lovely comments saying how nice it is to receive this wee extra bonus label and so I have produced an exclusive design for this purpose. Sew nice of me isn't it - sorry that's enough of the sewing puns! A friend of mine, Drew Nicolson,...