• new • woven label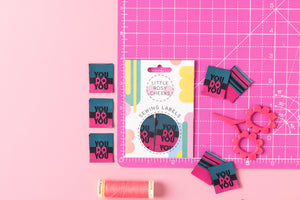 Woohoo NEW LITTLE ROSY CHEEKS LABELS are launching on 31 August 2023!
---
After keeping this hidden since January, the new packaging is now available.
---
I had the honour of being featured in the Sew Hayley Jane Box again in October. This time I wrote an article with my tips for remembering to sew a label in and how I sew a perfectly straight label using the Stix2 fabric glue pen.   Here it is!  Hello! It's Victoria here from Little Rosy Cheeks @litte.rosy.cheeks I'm very excited to be back and featured in another box by the wonderful Sew Hayley Jane! I've loved seeing all the makes you have tagged me in and hope you enjoy using the You Deserve to Dream labels in this month's...
---
• challenge • GBSB • Tits up transformation
I'm so excited to tell you about a sewing challenge that I am running with Aileen at Sew Yarn Crafty & Studio for the launch of the new series of Great British Sewing Bee. Sew Yarn Crafty & Studio are planning a fabulous virtual party to celebrate the finale in June as a fundraiser for two wonderful charities - @BreastCancerNow and @CLICsargent. Little Rosy Cheeks and Sew Yarn Crafty are super excited to launch our #TitsUpTransformationChallenge to coincide with the new series of the Sewing Bee! We are challenging anyone who has a sewing project (or any craft!) that hasn't worked, that has...
---
    I recently had the honour of being featured in the Sew Hayley Jane March 2021 subscription box. Hayley's boxes are so fun and must be such a joy to receive on a monthly basis! If you haven't heard of the themed boxes you can read all about them here.   Sew Hayley Jane - Luxury Box   Hayley has written a blog about this months box 'Pattern Party', the contents are gorgeous! As part of the subscription all Sew Hayley Jane subscribers received a pack of Love Yourself Revolution labels and I was featured in the magazine. Hayley interviewed...