• new • woven label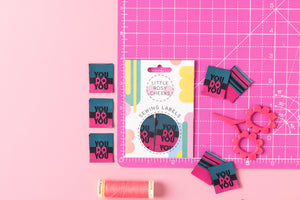 Woohoo NEW LITTLE ROSY CHEEKS LABELS are launching on 31 August 2023!
---
• new • Packaging • sustainable
There are lots of decisions to make when setting up a small business. Packaging being one of them and I've been on a bit of a journey with the packaging for Little Rosie Cheeks. Initially when thinking about the packaging I wanted for the labels, I knew that it had to be ethical; biodegradable and recyclable. Not to mention designed well and desirable. Being a small and new business, I had a limited budget so looked for packaging that I could buy with small minimum order quantities.   I decided on a design that had a recyclable header card and...